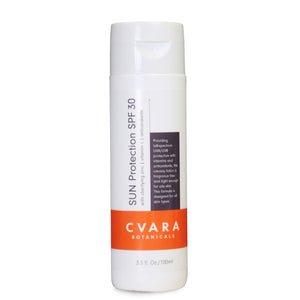 Sun Protect SPF30 3.3oz with clarifying zinc, vitamin c & antioxidants
Regular price $34.00 Sale
Providing full-spectrum UVA/UVB protection with vitamins and antioxidants, this creamy lotion is fragrance free and light enough for oily skin. This formula is designed for all skin types.
DIRECTIONS: Apply to areas exposed to sun. Reapply frequently, especially after physical activity or swimming. Sun Alert: Limiting sun exposure, wearing protective clothing, and using sunscreens may reduce the risks of skin aging, skin cancer, and other harmful effects of the sun.
ACTIVE INGREDIENTS: Octinoxate 7.5%, Zinc Oxide 7%, Octisalate 5%
INACTIVE INGREDIENTS: Aqua, Glyceryl Stearate, PEG-100 Stearate, C 12-15 Alkyl Benzoate, Hydrogenated Vegetable Oil, Cetyl Alcohol, Ceteareth-20, Cyclomethicone, Cetyl Dimethicone Copolyol, Cetyl Dimethicone, Dimethicone, Ascorbic Acid (vitamin C), Retinyl Palmitate, Tocopherol Acetate, Camellia Oleifera (Japanese Green Tea) Extract, Chamomile (Anthernis Nobilis) Extract, Calendula Officinalis Extract, Ginseng (Panax Ginseng) Extract, Gingko Biloba Extract, Licorice (Glycyrrhiza Glabra) Extract, Sodium Hyaluronate, Sodium PCA, Citric Acid, Xanthan Gum, Tetrasodium EDTA, Methylparaben, Diazolidinyl Urea.