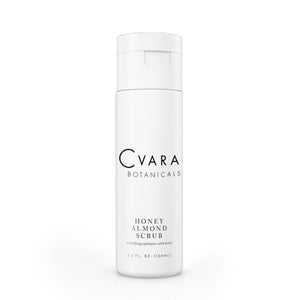 Honey Almond Scrub 3.3oz
Regular price $34.00 Sale
Honey – the key ingredient in this exfoliating crème – has many functions. Honey is valued as a humectant because of its sugar content which soothes the skin. Plus, it has mild antiseptic properties, which make it beneficial in the treatment of problem skin. Other specially chosen ingredients such as Sodium PCA, Hydrolyzed Collagen and Niacinamide are added to help hydrate and improve elasticity.
DIRECTIONS: Gentle enough to use every day or as needed. Applying to pre-moistened facial and neck areas with wet fingertips will allow the thick cream to glide on the skin. Massage exfoliator in gentle circular motions without pressure to the skin. Remove thoroughly with washcloth using lukewarm water. Follow by using a toner and moisturizer. NOTE: This ultra rich crème can be left on the skin for 10-15 minutes for a deep-pore cleansing treatment.
INGREDIENTS: Honey, Butylene Glycol, Avena Sativa (Oat) Kernel Flour, Titanium Dioxide, Prunus Amygdalus Dulcis (Sweet Almond) Seed Meal, Water, Phenoxyethanol, Methylparaben, Ethylparaben, Propylparaben, Butylparaben, Isobutylparaben, Honey Extract, Nonoxynol-9, Potassium Sorbate,Fragrance, Disodium EDTA.